Concert Review: Ron Gallo, Naked Giants and Dangerbyrd Shred the Bug Jar
The night started off with a kitchen and living room over my head. Literally, there is a kitchen and living room glued to the ceiling in the backroom of the Bug Jar – adding to one of the most unconventional and utterly chaotic concerts I have ever witnessed. Slamming doors, clothes being taken off, drunk women dancing, shirley temples, sloppy smosh pits, and fizzled crowdsurfing were only few of the highlights of Ron Gallo's, Naked Giants, and Dangerbyrd's set from last night.
Dangerbyrd, a Rochester-native blues and hard rock quartet, took the stage first. Easily out of place with what was about to come, Dangerbyrd shredded to the music, in which our dads would be fond of: Humble Pie and Buffalo Springfield. However, nobody at the event seemed older than thirty. It was nothing grand or new they were playing. It was completely different genre of music of what was soon to come.
Naked Giants, garage and punk rockers from Seattle, took the stage around 10:00 p.m., and that is when the night took off into a vortex of mayhem. With highly amplified distortion and fuzzy guitar effects, it was hard to look away. Performing songs such as – "Slide," "Dead/Alien," "Twist," and "Ya Ya," Naked Giants showed their style into becoming one of the hottest and aggressive bands playing music today. They moved like Devo, looked like Nirvana, but played like MC5.
Before Ron Gallo and crew took the stage, I had a conversation with Naked Giants drummer, Henry LaVallee, while playing Pacman. He is reminiscent of a young Keith Moon – showing the same expressions and style while drumming. He told me how people tend to hate the name of his band, but stated how "It's a joke. It's not supposed to be taken serious." Regardless, the way the Naked Giants play, makes their name senseless and unimportant.
Ron Gallo and his band appeared on stage around 11:00 p.m., and opened with an overture, transitioning "Kill the Medicine Man," a sister-track of Pink Floyd's "Corporal Clegg."  He also played some of his signature tracks such as "Put the Kids to Bed," "Please Yourself," and "Young Lady, You're Scaring Me." At one point during the set, Gallo literally busted out the backdoor and played his solo on the sidewalk, bringing in a couple of pedestrians.
Gallo was later joined by Naked Giants to close out the show, playing songs from a recent 7" single, they recorded together entitled, Sorry Not Everybody is You/The Age of Information. They also closed out the show covering the ever popular early metal Beatles track "Helter Skelter" and The Stooges "Search and Destroy," embedding that true Iggy Pop spirit by playing shirtless – showing nothing but raw power.
---
A Perfect Couple: The Strokes and Late Night Television
Watching bands perform on late night television is a special thing. Days before they appear, you mark both your digital and physical calendar. Then you anticipate the new  song that they going to perform off their latest album – hoping that it's not going to be that one, even though you have a sick feeling that it will be. You could care less about half the show (unless its Coco), but when one of your favorite band plays, its like the watching a hail mary.
The Strokes are still, one of the most exciting bands to see live – even with Julian Casablanca's still being frontman, after he transformed himself to look like a parrot. The band first appeared live on television, on Late Night with Conan O'Brien, in 2001, performing the "Reptilia" on Is This It, "The Modern Age." Julian showed up looking shy, moving very little, but there was strong focus in his aggressive raspy vocals – being one of the best performances he ever did. Rhythm guitarist, Nick Valensi, showed up looking like a Ric Ocasek rugrat all grown up, with his long sleeve shirt under his short sleeve; drummer, Fab Morretti, was wearing the same red shirt he wore all during 2001, Nikolai Fraiture wearing the same outfit he did in the "Last Nite" music video; and guitarist, Albert Hammond Jr., looking like a chill substitute teacher. This performance declared that rock and roll is here to stay.
In 2003, for an entire month, they performed every Tuesday on Conan O'Brien's show – performing songs off Room on Fire such as "What Ever Happened?," "I Can't Win," and the anthem "Reptilia."
The Strokes, along with many others, revolutionized rock music in the 2000's – a time when boy bands and white men wearing backwards hats dominated in the industry. No late night host wanted those artists, which explains why they constantly had much older musicians perform a song off their twenty-seventh studio album – which wasn't always bad, but not fresh.
After the Strokes played several times on late night TV, late night hosts became intrigued and started booking new rock bands such as The White Stripes, The Hives, Franz Ferdinand, TV on the Radio, years after years. Even when these bands started to experiment and change their sound, the networks didn't care; they booked them anyways. The Strokes just didn't revolutionize rock music in the 2000's, they revolutionized late night TV.
---
Throwback to When Rolling Stone Hammered into Devo's Duty Now for the Future
September 20, 2017 is the anniversary to yet, another mistake given by the elite "music" magazine, Rolling Stone. Thirty-eight years ago, Dave Marsh reviewed Devo's second studio album, Duty Now for the Future. Marsh it as "lame and fraudulent." The adjectives here fits the writer, more than the album. Is Duty Now for the Future an album for the average listener or critic? Most certainly not. Is it as worthy as the band's fearless debut album? Not at all. But what Devo establishes here the most, is not their placement as a "rock band," but their quirkiness and weirdness. This isn't an album you can just place with the rest of your Ken Scott produced albums. It's an album that doesn't talk or mention the concept of devolution at all, but it gives a wonderful strange insight of where music was about to head in the late seventies and early eighties. This is a country rodeo of inconsistency of the future.
I think of this album as their "crash dummy," not only because of album cover, but also the production. There is so much happening, especially on tracks such as "Pink Pussycat" and "Smart Patrol/Mr. DNA," the two most memorable songs on the album. The version of "Blockhead" might not be as exciting as the version off their Mechanical Man EP, but its flaw is only being overly overproduced, which should come in a liking for Rolling Stone. The track "Timing X" keyboards honestly sounds like it might have influenced the Alan Parsons Project track, "Sirius," or also known as the 1990's Chicago Bulls lineup theme.
Marsh ends his review by saying "When I finish typing this, I'm taking a hammer to Duty Now for the Future, lest it corrupt anyone dumb or innocent enough to take it seriously." Devo didn't want to be taken serious on this album. The album sounds more like a playlist or compilation than it does a studio album, but that's the specialty – its sloppy. This is an original album, by an original band. Critics like Marsh are the reason why Devo cannot expand their popularity in music, and will only be considered a "one hit wonder". This is no surprise from Rolling Stone. In their review for Q: Are We Not Men? A: We Are Devo!, Tom Carson claimed that "There's not an ounce of feeling anywhere…the music here is utterly impersonal." Marsh and his fellow colleagues clearly do not understand Devo's irony, like most people don't.
You can read Marsh's shit stain here.
---
Did Winning Album of the Year Ruin Beck?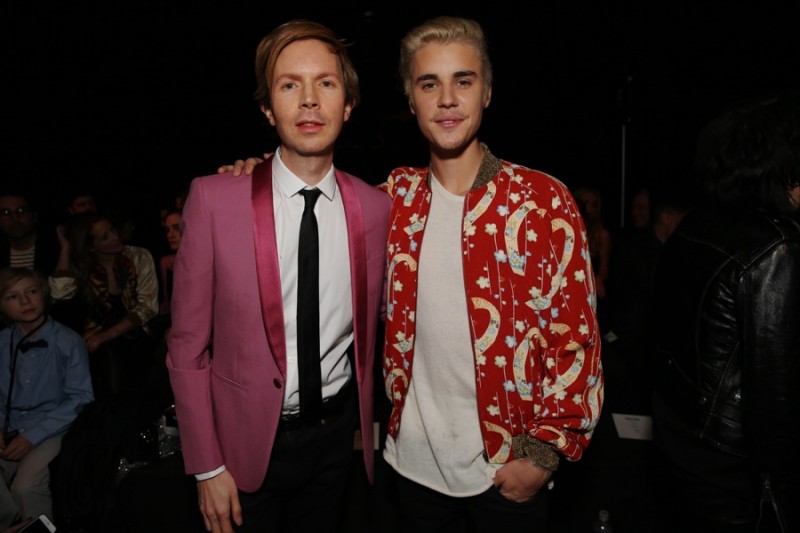 There is no doubt that Beck is one of the most innovative and talented musicians of his generation. He has blended various sounds into his music such as folk, hip-hop, psychedelia, and electronic and alternative rock. However, Beck has been incorporating a new sound on his latest singles for his upcoming long-delayed studio album, Colors, that is very radio-friendly pop. Beck has stated in a Rolling Stone interview, "These are complex songs all trying to do two or three things at once," he said. "It's not retro and not modern. To get everything to sit together so it doesn't sound like a huge mess was quite an undertaking." However, tracks like "Dreams," "Wow," "Up All Night," and "No Distraction" doesn't show any of that meticulous work. These are all simple upbeat tracks that sound like something Bruno Mars or Pharrell Williams would release. Nothing against those two artists, but comparing them to Beck sounds incomparable right? How can an artist who has released songs like "Devils Haircut" or "Cellphones Dead" make songs now sounding "Treasure" or "Happy"? The single "Dear Life" is the only noteworthy track released so far; it sounds like a track that could've been on The Information (2006) with an added Strokes guitar solo. Beck is even dressing the same as them. Of course Beck has a funky and entertaining side to him. It's shown on albums like Odelay (1996) and Midnite Vultures (1999), but this is completely different and out of range of Beck's artistry. When "Wow" was released, it was portrayed as an ironic track, making fun of the current generation's slang. After "Dreams" and "Wow" were released, the upcoming album seemed like it was going to be a modern Midnite Vultures, an album that was a parody of the late nineties nightclubs. Now with tracks like "No Distraction" and "Up All Night," these are all songs for the current generation, not poking fun at them. Beck trying to relate his music to the younger generation might have to do with him beating out Beyoncé in the 2015 Grammy Awards.
Since Beyoncé is overly worshipped by millennials, many people took to social media, posting "Who is Beck?" after Queen B's loss. Of course Kanye West was offended and stormed the stage in protest of Beck winning, prompting a breakout all over news outlets and social media. This controversy introduced many of this generation to Beck's music. I mean, Billboard had to publish this and even the Fine Brothers made a reaction video for teens on their YouTube channel. Many teens later realized that they knew songs like "Loser" and "Where it's At," but not the artist who made them. Beck has stated, these new singles were already established and ready to go well before Morning Phase won album of the year, meaning that there was no mainstream influence on the new singles. However, since Colors has been postponed several times, you can say these songs might have sounded a bit different in artistic style before they were released.
Beck has won several Grammy Awards in the past, but never Album of the Year. Winning this award and also Record of the Year, has hurt many musicians artistic abilities and forced them to be more mainstream due to increases in record sales. This has happened to many critically acclaimed independent artists before they made it big, such as Kings of Leon and Arcade Fire. I am not saying Beyonce's album is in anyway better than Morning Phase. However, Beck should have won Album of the Year at the Grammys in 1997, not in 2015.  The Grammy Academy voting members probably felt that they owed Beck an award, just like how Martin Scorsese was owed his Academy Award for Best Director in 2007.
Beck once sung about the industry that is about to absorb him. Its great that Beck finally got his fair share of winning, but it was at the wrong time. Now as veteran musician, Beck is about to breakthrough again, surrounding himself in a toxic music environment.
---
MCC Professor John Nyerges Plays and Releases New Album at Lovin' Cup
John Nyerges Quintet has returned with a new album and celebrated its release with a concert at the Lovin' Cup. On October 21, Jazz Pianist and Monroe Community College Jazz Instrumental Professor, John Nyerges released his third official album, Music from the Heart, at the Lovin' Cup, located in the college town of RIT (Rochester Institute of Technology), where he also put on a two hour concert with his band. Nyerges chose the Lovin' Cup for the event because he really enjoys playing there. He said "It's a great place and has good music – a lot of bands like playing there. I like the room, the stage, and there's a great sound guy. You're not just going there to play background music or in a club where nobody cares, you are actually engaging with the audience." Nyerges plays at the Lovin Cup' yearly, to promote his music. Throughout his career, he has had played over 1,000 shows.
Nyerges took the stage around 8:30 p.m., with his jazz quartet – Clay Jenkins on trumpet; Kyle Vock, bass; and Eric Metzgar, drums. The group is mostly a quintet, however, saxophonist, Doug Stone was reportedly feeling ill and incapable to perform. Even though they were without a member, that didn't stop them from performing at such a remarkable level. The quartet even performed the second track off the new album, "Solid as Stone" in dedication to Doug. Nonetheless, a couple of the musicians, such as Metzgar and Vock did not appear on the album, but filled in for drummer, Chris Teal and bassist, Danny Ziemann, for the live shows. Tenor saxophonist, Vince Ercolamento and alto saxophonist, Alexa Tarantino, also appeared on the new album, but were not present at the event. Bob Hubert was the sound technician of the show and was praised heavily by Nyerges, for producing such a rich sound. During the show, all the musicians stood out prominently on their own terms, but trumpeter, Clay Jenkins emerged the most. Being centered on stage, it is hard to miss him, especially a musician coming in and out of solos in-between sections of songs. Jenkins has been playing music with Nyerges for 12 years and worked on Nyerges last album, Jazz, Pictures, and Poems, in 2008. "It's great playing music with John. He knows a lot about the technical stuff and he's a really good player," said Jenkins. Jenkins explained "He's easy to work with and enthusiastic. I like his tunes, so it's always a pleasure playing with him."
There was a surprise performance from Nyerges wife, Kathy, covering "Pure Imagination" from Willy Wonka and the Chocolate Factory (1971), accompanied by the quartet. Before the performance, she made a public announcement about how significant Sammy Davis Jr. and Gene Wilder were, but most importantly, a message about originality. She said, "We define ourselves, not the world," which really hit home with the crowd. Later, the band performed "WGMC Blues" a number dedicated to one of the last few Jazz only radio stations in the United States, WGMC (Jazz 90.1), located at the Greece Olympia High School media center, in Rochester, NY. Nyerges quartet played all the new songs from the new album, except the ballads – "Requiem," "The Look in Your Eyes," and "Tribute" which didn't feel appropriate for a Saturday night, Nyerges pointed out. He added "To play a solo piano piece, I want it on a really good piano. My keyboard is great, I have a good piano, but I really like to play those on an acoustic piano because it rings differently. The sound is part of who you are and if it doesn't sound good, it doesn't hit people the same." The only ballad played was "A Sense of Loss" from the '08 album. This is one of Nyerges favorite pieces to perform live, due to the positive reaction he received when first performing it live. The crowd was filled with young college students and older people, who expressed their interest in jazz music over food and drinks and many of which, knew Nyerges and members of his group. MCC student, Michael Lindskoog, said "I thought the atmosphere was a perfect night for Jazz. John and his bandmates, are amazingly talented people. To have a chance to listen to them play is a great experience, while eating good food is an added bonus." Jazz fanatic, Jim Hayes said "You're not going to find any musicians better than this. I am a big Jazz freak and all the musicians on that stage are excellent."
Nyerges and his group started recording music for Music from the Heart, about two years ago; recording most of the tunes in three nights. However, one night there was technical problem, while recording some tracks with Rich Thompson on drums and Jeff Campbell on bass, both previously featured on the 08' album. Unfortunately, they didn't catch the error until after the session. Nyerges couldn't schedule another date with the pair, thus the tracks – "Samba Costa Rica" and "Thankful Heart" did not make it onto the new album. As a matter of fact, Music from the Heart's, original name was going to be "Thankful Heart." However, when all the tracks came together – dedications to his wife, Fred Sturm, and Don Grolnic – his wife told him "It sounds like music from your heart" and Nyerges instantly knew that was the name. The album was released on Nyerges own label, NBR (Nyerges Brothers Records) Jazz, which was helped funded by his brother, Paul. The new album was mixed and mastered by Nyerges and most of the selections were composed and arranged by him as well. The album's opening, "A New Day" is a jazz classic, with Jenkins' trumpet as the standout instrument. "Cool" is one of the more mellow tracks on the album, a great transitional piece towards the heavy upbeat "Breckers Blues," which is the epitome of progressive jazz. "Monks Blues II" originally appeared on the '08 release, but has been renovated, adding Tarantino, Teal, and Ziemann to the track. "Can You Feel That" was composed for Tarantino and first performed in concert on May 11, 2016 at MCC. The third track, "Cool" is dedicated to one of Nyerges biggest influences, songwriter and pianist, Don Grolnic. Grolnic is best known for his work with musicians, including Steely Dan, Bonnie Raitt, Paul Simon, and James Taylor. Nyerges previously dedicated a song to Don Grolnick for his '08 album, entitled "Pools." One of the last tracks on the album, "The Look in Your Eyes" is a dedication to Nyerges wife, including a duet between Nyerges and Stone. Nyerges songwriting is much more different than the songwriting from his 1991 debut album, Point of View. "After the late nineties, I think I really acquired my voice. I did a lot imitation on the first album and can point to several songs that sound like my influences." Nyerges went back to school and received his master's degree at the Eastman School of Music, from 1995 – 1997, and started writing more tunes, that would appear on the '08 album, after being inspired by all his teachers at Eastman. Nyerges has written over 200 songs and some have yet to be released.
Nyerges lives in Rochester, NY and is currently on the faculty at Monroe Community College where he heads the Jazz Instrumental program, where he directs the Jazz Ensemble and Small Combo, and teaches Recording Techniques, MIDI, and Jazz Improvisation/Theory. Growing up, Nyerges was surrounded by music. His older brother enjoyed playing the clarinet along to Benny Goodman, records – which was Nyerges introduction into the big band swing jazz. Down the road however, it wasn't exactly the kind of jazz Nyerges was interested in. His senior year at East High School, he heard his classmate, John Locke, now a well-known jazz vibraphonist, who has performed with popular artists such as Rod Stewart and the Beastie Boys, play the vibraphone with a professional band in his school's auditorium. When Nyerges got to Eastman School of Music, in Rochester, NY, as a music theory and piano performance major, he joined a Jazz Improvisation course and became part of a big band. Nyerges and his band, have performed at multiple music and art festivals all over upstate New York, including the Rochester International Jazz Festival.
---
The Beach Boys Influential and Disastrous Smiley Smile Turns 50
September 18 will mark the 50th anniversary of the Beach Boys release, Smiley Smile. The album is considered to be one of the worst follow-up albums of all time. You might review it as the worst, especially since it came out after the highly regarded, Pet Sounds (1966). However, nowadays, bands from Sebadoh to Animal Collective have cited the album as an influence to their sound. This isn't surprising, since the Smiley Smile is thought to be the first ever lo-fi album. It was recorded in a matter of two weeks, at Beach Boys founding member, Brian Wilson's home studio. The album masters a unique style of lo-fi psychedelia and bedroom pop, a sound that was not familiar with Beach Boys fans at the time. It was a daring record that baffled and divided the fan base and critics. There were some initial reviews such as Rolling Stone, calling it a "disaster" and then some like the Milwaukee Sentinel, calling it "the most valuable contribution to rock since the Beatles Revolver". Say what you want, but you cannot deny the album's legacy; it is  becoming just as worthy as its predecessor. However, the making of Smiley Smile did not come easy, especially under a label that wanted to bury the Beach Boys as a novelty act.
The upbringing of Smiley Smile was part of the friendly rivalry the Beach Boys had with the Beatles; each band trying to one-up the other. After The Beach Boys Pet Sounds debuted on the Billboard charts only at 106 on May of 1966; this was their lowest placement on the charts. Their label, Capitol Records, was not satisfied and quickly released the group's first greatest hits compilation, The Best of the Beach Boys without their permission. None of the songs off Pet Sounds made the "very best" compilation, not even "Wouldn't It Be Nice" or "God Only Knows". This drove Wilson mad, considering how hard he worked as a composer and writer in the sessions. Wilson and the rest of the Beach Boys knew they had to make a comeback onto the charts.
The Beach Boys had a few tracks that didn't make the cut on Pet Sounds. One of the tracks was the ever-popular "Good Vibrations" which was revisited and has been reported to have used 90 hours of recording tape as only a single. By releasing "Good Vibrations," the Beach Boys went back to number one on the charts, becoming a commercial hit. Soon after, the Beach Boys announced their 12th studio album, entitled SMiLE, which had fans and critics eager for the release.
Brian Wilson went back into the studio and collaborated with composer and songwriter, Van Dyke Parks, who introduced Brian Wilson to the more obscure and psychedelic sound of music. This caused some tension within the group, since Brian Wilson was mainly doing things with Parks and himself again, rather than with the rest of the Beach Boys. Here, Wilson and Parks collaborated on tracks such as "Heroes and Villains," "Vegetables," and "Wonderful" that carried themes surrounding psychedelia, spirituality, and humor. These songs and others were set to be released on the next Beach Boys record, SMiLE, an album that would've made the Beatles sound like Glenn Miller. The record went above and beyond what the Beach Boys were used to releasing and was even far away from Pet Sounds. This concerned Capitol records and due to the disputes with their label, Parks leaving and working on his debut album, Song Cycle (1967), and Brian's drug behavior, SMiLE got shelved and didn't get released officially until 2011. After the collapse of the SMiLE project, the Beach Boys were then set to headline one of  the most significant and influential music festival of all time, the Monterey Pop Festival. However, The group felt that they wouldn't of fit in with their material and didn't want to be associated with the music that was spreading at the time and dropped out last minute; a huge mistake publicly on their part. Here, people, especially belonging to the counterculture movement, considered the Beach Boys to be over, but they were just rebuilding.
To fulfill obligations with their pushy and untrustworthy label, the Beach Boys still had to release an album. They settled in Brian's home studio and recorded a more simpler version of SMiLE, called Smiley Smile. The album included some of the tracks Parks and Wilson collaborated on, but "Vegetables" and "Wonderful" were creepily reworked on. Smiley Smile is just as trippy as its original and carries a highly influential lo-fi and laid back slacker rock sound, that was used from mainly radio broadcasting equipment. It's such an inconsistent and chaotic record, but that's its specialty. I mean if SMiLE was released in 1967, I wonder if it would have topped Sgt. Peppers and continue the friendly rivalry between the Beach Boys and the Beatles, save Brian Wilson's mental illness, and instead of Beatles shirts at Jcpenny's, there would be Beach Boys shirts. Nonetheless, if it wa released, we wouldn't have Smiley Smile, an album that is just as good as its original. Smiley Smile separated the Beach Boys from everything that was occurring at the time and before like they did with surf rock, here they were pioneering a new sound called lo-fi music. The track listing goes from a comical and chipmunks singing song "She's Goin Bald" to a more calm and endearing track "Little Pad". Then we get to side 2 and "Good Vibrations" carries the electro-theremin, the obscure instrument that perfects the album's effects. Right after the monster opening "Heroes and Villains," the album runs all over the place. Beck's classic lo-fi record, Mellow Gold (1994) shares this same presence. The concealed sound used here, would be carried out on later Beach Boys albums such as Wild Honey (1967) and Friends (1968). You might consider Smiley Smile only to be a good album if you were stoned or that Mike Love caused the collapse of the SMiLE project and that it's one of the worst follow up albums of all time, but you would be lying to yourself. When SMiLE was officially released in 2011, people have been praising the aborted project way more than its replacement and have been kicking Smiley Smile farther and farther to the curb. Sure Smiley Smile doesn't have songs like "Surfs Up" or "Do You Like Worms (Roll Plymouth Rock)" on the track listing, but SMiLE doesn't have any songs like "Gettin' Hungry" or "Little Pad". Smiley Smile wasn't a bunt or collapse in the Beach Boys music, it was a grand slam in absurdity within reverberation and a rebirth for the group.
This past summer, Capitol released a compilation entitled 1967 – Sunshine Tomorrow, that focused strongly on the previous unreleased recordings from Smiley Smile and Wild Honey. 
---
Concert Review: Tool Comes to  Rochester 
There hasn't been any word on the upcoming Tool album due to the legal battles that have been surrounding it for years. There has been speculation over the past year, that Tool has somehow recorded their new album, but frontman, Maynard James Keenan stated back in January, that the new album has hit "roadblocks" and can be delayed again. On the brightside, Tool announced back in March, a North American tour. One of the stops, include a visit to the Blue Cross Arena in Rochester, NY. This is the first time since 2002, that Tool has made a visit to western New York.
Before Tool took the stage, there was an opening act called The Once and Future Band. The people around me didn't seem to enjoy them one bit, however I was fond of them; they reminded me of a mix of classic progressive rock bands from the seventies, such as Yes and Klaatu. Nonetheless, its a tough crowed for most opening acts anyways, especially opening for a band like Tool, knowing how irritated their fanbase is; been waiting for new album since 2006. 
Tool took the stage around 9:00 p.m and after drummer, Danny Carey's drumstick count off, the crowd whipped out the joints and started spilling their beers. Luckily with all the chaos surrounding me (which was to be expected), Tool opened with "The Grudge," (which was unexpected). Maynard creeped out from the back before he started singing the lyrics. He was dressed in a riot control suit, with what appeared to be the Starbucks logo in the center of the bulletproof vest (which we will get to later). After this, Maynard uttered the location, "Rochester," embracing the location of the venue and showcased emotive singing style on "Parabol" transitioning into one of the highlights of the night, "Parabola". Unlike the "The Grudge," where it was pretty much a laser show with the heptagram in the back, "Parabol" and "Parabola" were the first songs to include background visuals of their music videos. Tool then performed one of their more well-known songs and the lead single off their third studio album, Lateralus (2001), "Schism". Afterwards, Maynard took a brief moment from performing to share some words stating "United, we stand, divided, we fall" and then talked about how ridiculously divided the nation is in its current state of affairs and jokingly blamed Tool's bass player, Justin Chancellor. People might be tired of musicians going off about politics during their concerts, but for a band like Tool, it was relevant and it wasn't emotionally exaggerated. It also doesn't upstage the aesthetics of performance – unlike many artists today such as Katy Perry, who makes it the pivotal point of her performances, hiding her insecurities as an artist. Maynard kept it short and simple. The concert then reached its climax, when Maynard whispered the opening of "Ænima".
The song "Ænima" is an anti-celebrity elite, dedicated to the great late, Bill Hicks. The song uses quotes that Hicks stated about his detest of L.A. and that he just wants to flush the whole thing down, so people better start learning to swim or they will drowned in their own filth, relating to the lyrics. This was the perfect timing for this track, considering how Maynard ranted about snowflakes during a jam, midway throughout the song "Opiate," which took place right before and that many today Hollywood celebrities have been referred to as "snowflakes" from the right, due to their political/social views. During their jam, Maynard also referred to himself as one, which might explain his new persona. The rant has been normalized, since Maynard did a similar one at Tool's Boston show, over Memorial Day weekend. Tool then played their latest track, "Descending" with an alluring background visual of a pyramid. Tool didn't perform desired tracks such as "Sober" or "The Pot," but they did however, play the famous "Forty Six & 2". This was another highlight of the show, especially in Maynard's vocal approach. After this, there was an intermission of about ten minutes. Soon after,  Danny Carey took the stage and delivered a superb drum solo, carrying the energy like he did on the track off Lateralus, "Reflection". The group then rejoined and returned with the monster "Vicarious," with guitarist, Adam Jones delivering one of his best guitar solos along with the elegant Alex Gray visuals behind him. The show came to an end, with Maynard's intense powerful vocals from "Sweat" and the surprising closer "Stinkfist".
Tool came to Rochester with a purpose, to enlighten us. They performed songs mostly off of their more arduous and recent albums, Lateralus (2002) and 10,000 Days (2006). It was more than a concert, it was a religious experience
Tool – Blue Cross Arena, Rochester, NY, May 30, 2017 Setlist: 
Intro
The Grudge
Parabol
Parabola 
Schism
Opiate
Ænema
A/Descending
Jambi
Third Eye
Forty Six & 2
[Intermission]
Danny Carey's Drum Solo
Vicarious
Sweat
(-) Ions
Stinkfist
---
Peter Frampton Comes Alive with New Single 
Mr. Peter Frampton came alive and brought a wind of change with his surprising new single, "I Saved a Bird Today". This all came from an experience Frampton had with a bird a while back, that crashed into his window. By the cause of that, the bird knocked itself out. Frampton noticed this and with his efforts in saving the helpless animal- it influenced him to write a ravishing new song about simply- compassion.
Throughout the song, you hear Frampton refer to this bird as "her" – making it sound like one of his classic ballads. At the beginning, Frampton's tone is similar to an oldie but goodie, "Lines on My Face". He delivers a melodic acoustic guitar solo halfway through the song and right before this, he plays a few what is known as "George Harrison chords". Peter Frampton stated, "'To care for one another is the reason we are here'- this lyric sums up the song for me." On his website, he also stated:  "I'm really happy this song is now being made available to all! For me it's time to revisit our basic reasons for being here. It's caring for others, peace, love, and speaking the truth."
"I Saved a Bird Today" is available as a freestanding single on iTunes and various media players. Listen here.
---
Spoon Gets  Mysterious with New Single  "Can I Sit Next to You" 
Last month, Spoon dropped the dance-floor single "Hot Thoughts" for their upcoming album, Hot Thoughts (2017). Now, they have released a mysterious new track entitled "Can I Sit Next to You". With "Hot Thoughts", the band got experimental and funky. Yet with "Can I Sit Next to You", it seems that the band has returned to their glory sound.
"Can I Sit Next to You" draws a similarity to Spoon's previous album, They Want My Soul (2014). Pitchfork stated in their review that it "bears a striking resemblance" to "Do You." This new song might be the standout track for the upcoming album, similar to how "Do You" was on the previous.
Alternatively, this song sounds like the Spoon from the previous decade. There's a typical Spoon repetitive guitar strut and synth line section, which comes off as similar as their past work: Gimme Fiction (2005) and the track, "Back to the Life," off Kill the Moonlight (2002). It opens with one of these typical catchy Spoon guitar riffs and throughout the song, you hear Britt Daniels' endearing howls and echoes. It's definitely a danceable track like "Hot Thoughts," but this one sounds more like a classic Spoon track. What's more important here however, is that again, Spoon's consistency continues and the new album is getting just as exciting.  
If you think the song is mysterious, check out the music video.
---
They're Already Nostalgic: Top Albums on Vinyl 
In the summer of 2014, I started to collect vinyl. My friend's father had just introduced him to them and my friend later showed me. The first album I bought was Dire Straits' Brothers in Arms (1985), at a comic book store. I didn't have a record player at the time, so I set it aside on my shelf, mostly for decoration. When I finally purchased a turntable, I was able to bust out those stellar Knopfler guitar riffs ("Money for Nothing") on a radiating rich crisp sound. There was this particlar skip in the middle on "Your Latest Trick," adding singularity to a part you will now hear in your head for the rest of your life – the beauty of scratched vinyls. Vinyls get passed down from person to person – causing scratches on the record, marking the album, and leaving their terrible report cards inside the cover (that's another story). I remember buying The Beach Boys' All Summer Long (1964) and the name Wendy was written on the corner of the front cover. It's funny because obviously of the song "Wendy." Also, when my aunt gave me her original copy Frampton Comes Alive (1976), there were a few sexual terms describing Peter Frampton on the inner sleeve.
Throughout the time I've been collecting, there are always those go to records, that are all scratched and marked.
Air – Moon Safari  (1998) 
The first time I heard Moon Safari, I was completely blown away. It's an extremely mellow, downtempo album that sends you on a journey. Sounds cliche, but it was a different album at the time, when the late nineties were dominated by pop and hip-hop. I remember when I first heard them, I was listening to a lot Classical music such as Schubert and Beethoven, so I was really into the instrumental aspect. The most popular track and distinctive song off the album is the alluring "Sexy Boy". My favorite tracks include: the opening, "La femme d'argent," "You Make it Easy," "Remember," which replicates the Beach Boys' hit "Do it Again" and sounds like a late Strokes track, and "Ce Matin Là". It was the first record I ordered online (I'm not an online buyer) and my introduction into one of my all-time beloved bands.
The Rolling Stones – Hot Rocks 1964–1971  (1971)
I wasn't a Rolling Stones fan growing up. I think my uncle sort of ruined that. I knew them and they knew me, but there wasn't this phenomenon that resonated between us. Finally around eleventh grade, the Stones connect with me. My girlfriend retrieved this album from her uncle in very good condition. She then gave it to me to hang onto since she didn't care for the Stones either. Usually in the morning when I would be getting ready for school, I'd always play music. One morning, I was getting pretty sick of Pavement's "Box Elder," so I remember seeing Hot Rocks on the shelf near me. I played the desired side, including the tracks: "Jumpin' Jack Flash," "Street Fighting Man," and "Sympathy for the Devil". Listening to the songs in this specific order, was like music to my ears, it's the best arranged Stones compilation. Even though they exclude songs from Their Satanic Majesties Request (1967), that probably would've ruined it and wouldn't have given off the same impression it did. It looks back to the best decade of The Rolling Stones, becoming a personal morning favorite.
REO Speedwagon – Live: You Get What You Play For (1977)
In a different way, this album is more special to me than the rest. When I first started collecting and listening to vinyl, I would always show my parents what new albums I acquired. My mother is a huge REO Speedwagon fan and when she saw me holding this coming home one night, she couldn't believe it. It was an album my mother and I would listen to, primarily side three day in, and day out. We always bonded over music, but this was the album that really connected. Conversations blew up about how good looking Gary Richrath was or how there was an original version of "157 Riverside Ave." featuring a different lead singer and not Kevin Cronin. Before listening to this, I only knew the more mainstream songs such as "Keep on Loving You" and "Take it on the Run" from Hi Fidelity and the power ballad "Can't Fight This Feeling" off Wheels Are Turnin'. It's a perfect introduction into the band before they hit it commercially. Personally, REO is one of those bands that were more prime in their early years and this album definitely portrays that.
Cheap Trick – Cheap Trick at Budokan (1978)
Another tasty live album that's perfect to listen to during New Year's Eve on a couch, with a glass of Coca-Cola in your hand, and with a couple of cats beside you. The first live album I bought, packed with powerful anthems such as "Surrender," "I Want You to Want Me," and their beloved Fats Domino cover "Ain't That a Shame". Cheap Trick was adored by the audience in Japan and had a huge following. It was like listening to a Beatles concert. It helped transformed Cheap Trick into multi-platinum superstars and me explore the many works of power pop. It's one of the most significant live albums recorded and the great thing is, you can find it almost everywhere.
Boston – Boston  (1976)
Is there any other supreme introduction than side one of Boston's debut? Maybe side one of The Cars' debut, but this messy arranged classic album hits you faster on the first listen than a classic KISS record. The flow from "Peace of Mind" into "Foreplay/Long Time" is near perfect and "Rock 'n' Roll Band" shows more the band has to offer after the flip. I acquired this album for only a dollar in surprisingly great condition, even though the size of the cover had shrunken. It's an album that is owned everyone, whether it's in the glove-department of your car or next to your turntable for those romantic times. This album is the reason why Boston has constant radio-play; its the epitome of 70's rock n roll. It was a hallmark for Tom Scholz and even though there was a demand from the industry and fans, this album was never replicated again.
The Records – Shades in Bed (UK) or The Records (US) (1979)
My friend had an extra copy of this album and he was such a darling, he lended it to me. I didn't know anything about it. The only thing I knew was the label Virgin Records, because it matched the brand of my smartphone. Shades in Bed (UK) or The Records (US), is one of the greatest or if not the greatest power pop record ever released. It had a semi-hit titled "Starry Eyes", but its jam packed with power pop classics including: the fast-tempo Lolita-ish "Teenarama" and the incisive "Girl". It's one of those albums that are just waiting for anyone to pick up, considering how underappreciated it is. Once when I looked them up, the band didn't even have a google profile with images depicting who they were. Classic power pop groups such as Big Star or Badfinger are underrated bands that should've been bigger and the same goes to The Records.
Pavement – Crooked Rain, Crooked Rain (1994)
Considered one of the best albums from the nineties, this overloading classic indie rock album is striking. After listening to Pavement's debut Slanted and Enchanted, I did not expect this. A major change from their lo-fi slacker rock style from their early EPs and debut shifts to a clean classic rock sound. Not my favorite album by Pavement, but overall it is their best. It's like the Dark Side of The Moon in Pavement's discography. The vinyl copy I have, has this very distinct skip during the introduction of "Silence Kit". Sometimes, I even incorporate that skip in my head when hearing other versions. Nothing is better after reaching the climax with the screaming"Unfair," then flipping the record and hearing the beautiful Malkmus pleading "Gold Soundz". There's also the precious insults targeting The Smashing Pumpkins and Stone Temple Pilots on the track "Range Life".  The album also offers the band's anthem "Cut Your Hair" attacking the importance of image in the music industry, a target more likely at Nirvana. The ironic part of this album, is that it mocks the mainstream, but it gained Pavement somewhat-mainstream success and were considered to be the "next Nirvana." Then they purposely went back to their roots and released the pure and experimental Wowee Zowee (my favorite). However, Crooked Rain, Crooked Rain, showed audience that Pavement had style and potential to be one of the biggest bands in the nineties.
The White Stripes – De Stijl (2000) 
De Stijl was the album that made me believe I was a rockstar in my room, shredding an air guitar to "Jumble Jumble." A personal favorite from The White Stripes, that doesn't carry any of the mixed songs seen on White Blood Cells (2001) or Elephant (2003). This one is short and simple. Sure, it can't match some of the songs from those albums, but album-wise, it's their best. Rather than their semi-lackluster debut, this sophomore effort was when The White Stripes displayed their unforgettable style and purpose. Their bluesy, messy, raw, electrifying exuberant tracks would fit great on an old 60's garage rock compilation, such as Nuggets. An album of many styles, including the hard rocking "Death Letter," more lyrical approached ballads including "Truth Doesn't Make a Noise," and then the magnificent soft rock songs such as "You're Pretty Good Looking (For a Girl)". My favorite part of the album comes towards the end, with the track "Let's Build a Home". The last track "Your Southern Can Is Mine" is a near perfect modernized bluesy version of Blind Willie's original and it's just as good as a closer than "Well It's True That We Love One Another," from Elephant. There are no anthems on De Stijl such as "Fell in Love with a Girl" or "Seven Nation Army," but it  built the band's enduring presence in American music, with the garage rock-revival.
The Cars – The Cars  (1978)
There isn't an album out there that is more new wave with big hooks and highlighting keyboards and than the radio-friendly debut album by The Cars. Guitarist Elliot Easton stated once, "We used to joke that the first album should be called The Cars' Greatest Hits." Although, The Cars have an excellent discography, there isn't one album there that compares to this one. No other songs offer more catchy hooks and melodies than "Just What I Needed" (karaoke classic), "My Best Friend's Girlfriend," and "Bye Bye Love". Not to mention how influential this album was to the new wave era and the garage-rock revival scene that later followed with bands like The Strokes. This was an album I would play repeatedly on winter nights, while working on my U.S. History or English homework. From "Good Times Roll" to "All Mixed-Up," there isn't a sizable dose of excitement than portrayed here. It is the album that defines new wave.
Dire Straits – Brothers in Arms (1985)
An album must be pretty good if you own it on vinyl, cassette, and CD. Dire Straits' Brothers in Arms is a greatly produced record; loaded with tremendous guitar work from one of the most underrated guitarists, Mark Knopfler. It includes the best three song streak ever in its opening. With the band still embedded in their roots rock style, Brothers in Arms however, goes a step further. It incorporates new wave, soft rock, progressive rock, and even eighties pop. Almost every song switches to something new with the Making Movies (1980) throwback "So Far Away," to the aggressive guitar riff on "Money for Nothing," the "sports bloopers" favorite "Walk of Life," the outstanding saxophone introduction of "Your Latest Trick," the charming "Why Worry," the Dylan-like "The Man's Too Strong" and then the epic title track closing the album. This is one of those albums that hits you on the first listen. Brothers in Arms helped redefine what Dire Straits was all about in the eighties – MTV and headbands. This is the album that started it all for me.
---
Parquet Courts Perform "Human Performance" on Fallon
In support of their latest grammy nominated (Best Recording Package) album Human Performance, Parquet Courts were the musical guests on last night's episode of The Tonight Show Starring Jimmy Fallon. The band performed the core track
"Human Performance", embracing their post-punk sound. Their performance felt like a political statement, with front man Andrew Savage wearing an "All Power to the People" sweater and drummer Max Savage's bass drum's sticker declaring "Fight Back!". Watch the performance here.
The band kicks off a short U.S. tour on Tuesday, January 31, in Philadelphia with Mary Lattimore. They are also scheduled to play at this year's Governors Ball in New York City. The festival includes popular acts such as Chance The Rapper, Wu-Tang Clan, Tool, Phoenix, and more.
Parquet Courts – 2017 Tour Dates
01/31/2017 – Philadelphia, PA/Union Transfer
02/01/2017 – Baltimore, MD/2640 Space
02/02/2017 – Charlotte, NC/Neighborhood Theatre
02/03/2017 – Asheville, NC/The Grey Eagle Tavern & Music Hall
02/04/2017 – Athens, GA/Georgia Theatre
02/06/2017 – Orlando, FL/The Social
02/07/2017 – Miami, FL/Gramps
02/08/2017 – Tampa, FL/The Crowbar
02/09/2017 – Gainesville, FL/The Wooly
02/10/2017 – Birmingham, AL/Saturn
02/11/2017 – Atlanta, GA/Terminal West
02/13/2017 – Washington, DC/9:30 Club
06/01/2017 – Nelsonville, OH/Nelsonville Art & Music Festival
06/02 – 06/04/2017 – New York, NY/The Governors Ball Music Festival
---
Spoon's Consistency Continues with New Track "Hot Thoughts"
Back in December, on an episode of the Showtime series, Shameless, Spoon shared a scene of a new song titled "I Ain't the One". Two days later, the band uploaded an uncaptioned gloomy picture of a skull on their social media accounts. Then in the beginning of January, the band debuted four new songs at a semi-secret gig in their hometown of Austin, TX. Fans were confused and demanded answers. After many days of teasing, Spoon officially announced their ninth studio album, Hot Thoughts by virtue of Matador, will be released on March 17, 2017. It will be their first album released on the label since their debut album, Telephono (1996). It will be produced again by sonic maestro, David Fridmann, who previously worked on their 2014 album, They Want My Soul. At the beginning of this week, the band uploaded a full-length track titled "Hot Thoughts".On January 17, 2017, the band released the first single off their upcoming album, Hot Thoughts, simply titled, "Hot Thoughts". It also included the new colorful cover of the album, depicting the same skull uploaded a month ago. The track is mainly a dance-rock styled song, blending Strokes-like riffs over simple beats flourishing under Britt Daniels' modernized echoed vocals. He even throws in a  "Wooooo" and some intense John Lennon howls, something greatly admired about his style. The band is changing, but they have not yet lost their mojo. The consistency continues.
Stream the new song here. 
Track Listing of Spoon Hot Thoughts (2017)
      Hot Thoughts
      Whisperi'lllistentohearit
      Do I Have to Talk You Into to It
      First Caress
      Pink Up
      Can I Sit Next to You
      I Ain't The One
      Tear it Down
      Shotgun
     Us


---

Jaki Liebezeit, Drummer of Can, Dead at 78 

Jaki Liebezeit, drummer from Can.

Jaki Liebezeit, drummer and founding member of the legendary Krautrock band Can, has died. The band confirmed Liebezeit's passing on their official Facebook page writing: "It is with great sadness we have to announce that Jaki passed away this morning from sudden pneumonia. He fell asleep peacefully, surrounded by his loved ones. We will miss him hugely". He lived to be 78.

Born May 26, 1938 in Dresden, Germany, Liebezeit was a jazz styled musician before becoming an experimental one. He was part of the Manfred Schoof quartet, who were pioneers of European Free Jazz, also known as avant-garde Jazz.. As a jazz drummer, this style highly contributed to his future days with the band Can and lifted the development of the so-called "Motorik" beat, characterizing the Krautrock genre. His style was characterized by fellow bandmates as "Half man, half machine".

Apart from Can, whether it was producing or drumming, Liebezeit worked with many musicians including Brian Eno, Jah Wobble, and Depeche Mode. Recently, he worked on a record called Cyclopean EP alongside fellow Can co-founder, Irmin Schmidt, and long-time collaborators, Jono Podmore and Burnt Friedman.

Many musicians paid their respects on social media including, Franz Ferdinand. Frontman Alex Kapranos wrote, "Farewell, Jaki Liebzeit. I'll never tire of listening to you play." Franz Ferdinand once covered "Connection" by Can, for their album Late Night Tales: Franz Ferdinand (2014). Cedric Bixler-Zavala, from The Mars Volta, also took to twitter saying "All roads of drumming eventually lead to Jaki Liebezeit. Your approach was contagious RIP #JakiLiebezeit".

He was no Keith Moon or Ginger Baker, but he was a drummer who greatly contributed to a music scene highly influential in various genres, adding to his legacy.

---