Friday's Song of the Day
---
Classic Album Review: The B-52's – Whammy! 
In 1983, the B-52's followed up Mesopotamia, with their third studio album, Whammy!, which is basically a continuation of what they did on Mesopotamia. However instead of working with David Byrne, this time the band worked with Jamaican audio engineer and producer, Steven Stanley, best known for working with Talking Heads and Tom Tom Club. The B-52's were relentless with changing and updating their sound, thus Whammy! is another take on the band's journey of experimentation.
During a visit at Compass Point Studios in the Nassau, Bahamas, best known for where AC/DC recorded Back in Black (1980) and also where Emerson, Lake, and Palmer, recorded their cringe-worthy seventh studio album, Love Beach (1977).  First at the studio, the B-52's re-recorded the tracks that were left off of Mesopotamia ("Queen of Las Vegas, "Big Bird," and "Butterbean") and later in December of 1982, recorded six new songs. At this time, guitarist, Ricky Wilson and drummer, Keith Strickland became multi-instrumentalists, by contributing all of the instrumentals, except additional instruments such as the trumpet and saxophone for Whammy!. Even though this album vastly differs from their first two releases, it still shows the B-52's in their typical quirky and zany style.
Whammy! opens with "Legal Tender," which features a steady drum machine and a genuine keyboard, underlaid with warm vocals from frontwomen, Kate Pierson and Cindy Wilson, singing about making fake money in a basement, ready to be spent. The synthesizers also play a huge role in the opening track, drawing a resemblance to the new trend of new wave artists throughout the eighties, giving value to the instrument. "Whammy Kiss" features frontman, Fred Schneider at his most extreme, ending the song in reverberation by screaming "Give it to me!" With that line, you could probably guess how crazy this song is. This track differs from the rest due to how over the top it is, but that was what the band was known for. Next to "Mesopotamia," the next track, "Song for a Future Generation" is the best experimental track from the B-52's. It shows all five members singing, along with the key and synth lines creating a pleasant and cheerful landscape. Without a doubt, this is the best song off the album. If you thought "Whammy Kiss" was outrageous, the next track, "Butterbean" is just as bad. It almost sounds like the band is mocking their classic surf/punk style with modern instruments disorganized and outrageous draggy backing vocals from the females. The chorus changes several times in the song, but it is still a fun song to dance to. "Trism" is another alluring track from the start of it, but it becomes too repetitive and drags on. "Queen of Las Vegas," shows some similar keyboard riff like shown on the classic Cindy Wilson lead vocal track off their debut, "Dance this Mess Around." The lyrics are the deepest on the record, showing how perfect the vocals are without any male interference. The next track is a cover of Yoko Ono's "Don't Worry Kyoko" however on this version, your ears won't bleed at the very beginning (come on, I love Yoko, but fuck that opening scream) and there is no Kyoko. The B-52's transform Yoko's version into a jumpy, obnoxious, Devo-like synth anthem. It gets even weirder on "Big Bird." There's a surprising horn and African drum section over a low keyboard line – something that could have been featured on nineties Nickelodeon, later ending in jazzy style. The congas are extensively emphasized, showing a wild taste and Stanley's influence. The final track, "Work That Skirt" is a jam featuring all sorts instruments, with the electronics sounding like something which could have easily influenced the Flaming Lips' Yoshimi Battles the Pink Robots (2003). It's a fantastic instrumental piece, but it's a weak way to end the album. As a listener, you demand more. It would have been better as a transitional track; sort of a break from all the loopy singing by Schneider, Wilson, and Pierson.
This whole experimental project was a great idea by the band – it didn't fail at all like some artists do when changing their sound. It's a very eccentric and genius album, but holds too much emphasis on the consistent use of keyboards and synths, which was clearly its point. It creates this futuristic atmosphere, which still holds today. It might not be as classic as their first two albums, but it shows a much more stable organization in their order of songs. It's very undeviating – keeping the party going. The point of the B-52's music is supposed to make you get up and dance and that is exactly what they did on Whammy!.
8.5/10  
Favorite tracks: "Legal Tender," Whammy Kiss," "Song for a Future Generation," "Butterbean," "Big Bird" 
Least favorite tracks: "Trism," Don't Worry" 
You can listen to The B-52's Whammy! here.
---
Listen to the Latest Track by David Byrne, For His Upcoming Album
David Byrne released the latest track for his upcoming 2018 studio album, American Utopia. The song is entitled "Everybody's Coming To My House" which right at the beginning, establishes an atmosphere of LCD Soundsystem, Talking Heads, and you can also hear some Daft Punk, especially in the solo and instrumentals. The brand new album comes out March 9. Listen below.
---
Franz Ferdinand Releases New Song for Upcoming Album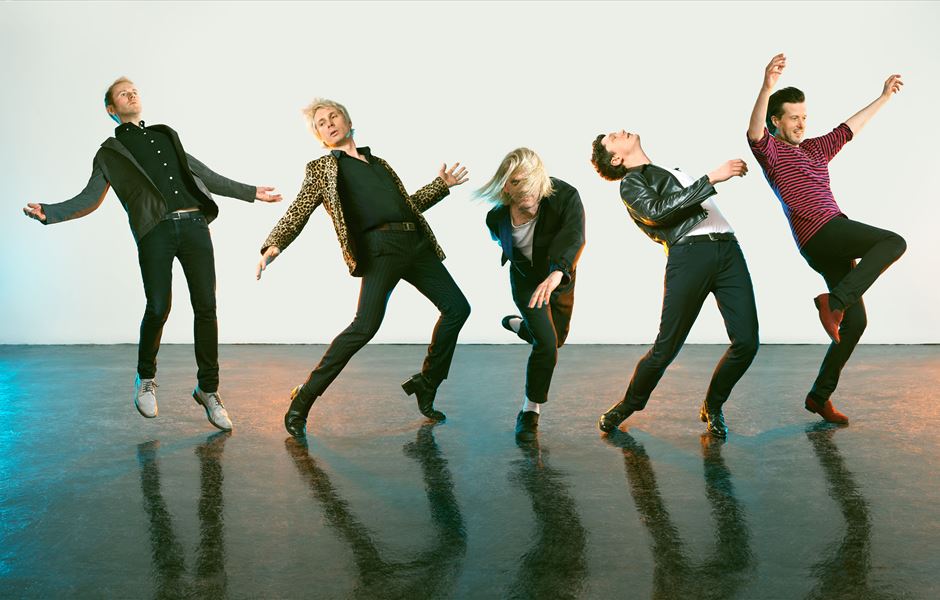 Scottish rockers and garage rock revivalists, Franz Ferdinand, released a new single entitled "Feel The Love Go" for their upcoming album, Always Ascending, due for February 9, 2018. It is far more progressive than the previous titled track single, but continues the sexy dance rock fashion Franz is known for. The change up in style isn't surprising, especially after co-founding member and guitarist, Nick McCarthy, departed. This isn't like anything Franz has released before, however, it does draw a similarity in the more solid and electronic pop album, Tonight: Franz Ferdinand, from 2009. "Feel The Love Go" sounds like its predecessor, especially in the beginning before the drop to the chorus, but the end of it takes you on a disco whirl that seems never-ending.
Many garage rock revivalists from the early 2000's have switched from guitars to synths and keyboards. Bands including Franz, the Strokes, and the Killers, started this approach in the early 2010's, but emphasized it more with their recent work. Artists once hailed as the "saviors of rock" are now evolving into a different genre. Similarly, when the Rolling Stones and Rod Stewart went disco; history repeats itself.
Listen to Franz Ferdinand's "Feel The Love Go" below.
---