Song of the Day: The Beach Boys – "Good Time"
---
Albert Hammond Jr. Is Really Feeding Into What Strokes Fans Have Demanded for Years
Fans hate when their favorite bands progress. It's weird right? How can people love their favorite bands making the same styled album every couple years? Bands need to change. However, when bands change, they need to have their original form still incorporated into their changes. NYC based post-punk revivalist gods, the Strokes are a perfect example of this.
In 2003, the Strokes released their highly anticipated sophomore album, Room on Fire. Even though the album delivered some killer tracks such as "12:51," "Meet Me in the Bathroom," and the band's anthem "Reptilia," critics saw the album too close to the band's superb debut album, Is This It (2001). In response of this, in 2006, the Strokes released First Impressions of Earth and incorporated a heavier style with steamrolling guitars and went deeper into their songwriting. This is evident on tracks such as "Heart in a Cage" and "Ize of the World" (a great precursor of Julian's future vocals). Critics however, shot it down and hailed it as one of the most disappointing albums of 2006. In an interview with Lizzy Goodman from Vulture, Hammond said, "With Room on Fire, people were giving us shit because they said we were sounding too much the same. With the third album, we were getting shit that we don't sound like Room on Fire. We got fucked by the same thing twice!" Ever since then, the Strokes were never the same. Each member started working on side projects and the band just didn't feel or ever sound the way they once did. Being a fan of the Strokes today is like having two divorced parents, who hate being together and spending time with one another is an obligation.
Each member from the Strokes have been pursuing different solo careers. Frontman, Julian Casablancas, got really into neo-psychedelia and electronic rock, which is evident with his group, the Voidz. Guitarist, Nick Valensi, has a band called CRX, who mostly play stoner rock mixed with power pop. None of these sounds obviously fit the Strokes that we all love and crave. However, guitarist, Albert Hammond Jr., lately has been really feeding into what Strokes fans have been demanding for years – simple garage rock with a DIY punk attitude. And Hammond's latest album, Francis Trouble, offers this.
The opener of Francis Trouble, "DvsL" sounds like a mix of the Stooges and Television and this is perfect because the Strokes early in their career, were compared to acts like this. Hammond has always had the Strokes method attached to his solo career. "In Transit" is a great example of how he can sound like an unreleased Strokes track.  Sure, Hammond has experimented with his solo work, especially on one of his most recent singles, "Muted Beatings," – a very new wave track with a bouncy chord progression, but Hammond has never went too far, like his bandmates.
As a solo artist, clearly Hammond admires his dear friend and bandmate, Julian Casablancas. He sounds exactly like Casablancas on "Set To Attack." And the track, "Strangers" could've fit easily on either one of the first two albums.
With other Strokes members on different paths, Hammond seems to be the only one who cares deeply about what the Strokes represent.
Francis Trouble Full Album Review Coming Soon
---
Parquet Courts Announce New Album Due For May
Second generation post-punk revivalists, Parquet Courts recently announced the release of their sixth studio album, Wide Awake!, out May 18 through Rough Trade Records. On the upcoming album, the band surprisingly collaborated with producer, Danger Mouse. Parquet Courts frontman, Andrew Savage, said "I liked that it didn't make sense." Since Danger Mouse is more of a pop producer, you would think, he would've changed Parquet Courts' sound and have them present cleaner instead of raw music – like he did with the Black Keys, Red Hot Chili Peppers, and most recently, Portugal. The Man. However, on the latest single, you don't see that change at all. You hear the same bands who have always been influential, such as Black Flag, Gorilla Biscuits, and Pavement. The only change may be a blend of punk and funk – a mix strongly developed by the Clash and influential on the latest single. There's a quick and heavy guitar riff, assorted with frustration and anticipation from Savage in vocals – especially during the bridge. Like the Hives, you can see Parquet Courts still hanging on to their signature sound. Ty Segall changed, but Parquet Courts seems resistant, but consistently hanging strong. Watch the animated video for "Almost Had to Start a Fight/In and Out of Patience" and check out the Wide Awake! cover art and track listing below.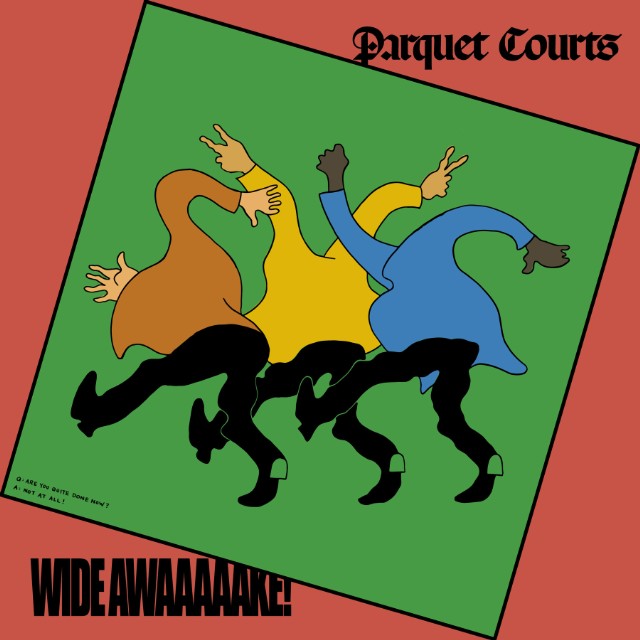 Parquet Courts – Wide Awake! Track List 
1. "Total Football"
2. "Violence"
3. "Before the Water Gets Too High"
4. "Mardi Gras Beads"
5. "Almost Had to Start a Fight/In and Out of Patience"
6. "Freebird II"
7. "Normalization"
8. "Back to Earth"
9. "Wide Awake"
10. "NYC Observation"
11. "Extinction"
12. "Death Will Bring Change"
13. "Tenderness"
---
The Breeders Show They Can Still Breed Solid Music With New Single
Legendary alternative rockers, the Breeders will release their fifth studio album, All Nerve, next week. This is their first release in nine years and unlike the Smashing Pumpkins, this is a true reunion album. It is the same lineup: Kim and Kelley Deal, Josephine Wiggs, and Jim Macpherson – who released the iconic album,  Last Splash, in 1993, which included the classic 90's hit, "Cannonball." Today, the group released the third single, "Nervous Mary," which is a bass driven track that includes some wicked vocals from Deal – showing further anticipation for the comeback album. All Nerve is out Mar. 2, via 4AD Records. Listen to the latest single, along with the others below.
---
Billy Corgan Leaks Titles of Eight New Smashing Pumpkins Songs
On Presidents Day, Smashing Pumpkins frontman, Billy Corgan took to Instagram teasing new music from the slightly reunited Smashing Pumpkins lineup. In his post, he revealed that he was meeting original Smashing Pumpkins members, Jame Iha and Jimmy Chamberlain in Malibu to record some new songs, after spending a week in Chicago to "refine lyrics." Corgan later listed the name of eight new Smashing Pumpkins songs. The new tracks include: "Alienation," "Travels," "Silvery Sometimes," "Solara," "With Sympathy," "Marchin' On," "Knights of Malta," and "Seek and You Shall Destroy." Corgan also stated in his post how he has "between 16 and 18 songs" for his upcoming solo album. Sadly, there was no update on Corgan's recent ownership of the NWA (National Wrestling Alliance), which is what we and especially Ric Flair, really want to know (am I right?).
The relationship between Corgan and original bassist, D'arcy Wretzky is still bitter and confusing. She's the only original member not involved with the reunion tour. Peter Hook's (New Order) son, Jack Bates, got hired to play bass instead. This all became controversial when Alternative Nation reported a photoshoot posted online, between Corgan, Iha, and Chamberlain, but no Wretzky? This became controversial and now have fans questioning this "reunion" tour.
The semi-reunited Smashing Pumpkins will embark on the Shiny and Oh So Bright Tour starting in July, with a focus on performing material from their first five studio albums. Pictures from the photoshoot are below.
---
The Beatles – Abbey Road
In February of 1969, the Beatles went into Abbey Road studio to record the last sessions the group would ever record together. Let It Be (1970), might be their last album released, however much of the material was recorded before Abbey Road. On Abbey Road, the Beatles incorporated blues rock ("Oh! Darling," "You Never Give Me Your Money"), early progressive rock ("I Want You You (She's So Heavy)," "Because"), and a few cliché sixties Summer of Love styled pop songs ("Here Comes the Sun"). Entirely, this is the Beatles album that is for dads to call the "greatest album of all time," but lets not go that far. Many might consider it to be one of the best because it's Beatles collapsing and each member becoming artistically different and dealing with it civilly. Abbey Road is sort of a preview of what each Beatles member would accomplish during their solo career.
Abbey Road opens with the lead single "Come Together," – the first Beatles song I came to love as a child, when listening to 1 (2000), an album my mother would constantly play. Lennon's whisper of "shoot" is actually Lennon saying, "shoot me," followed by a hand-clap, in which McCartney's elevating thick bass line muffles out "me." It is followed by the best George Harrison Beatles song, "Something." It includes very warm vocals and smooth organ playing from Billy Preston, which overshadows Lennon's piano playing. Frank Sinatra called it "the greatest love song ever written" and he certainly wasn't wrong. Then comes the quirky and ever-glorious Moog synthy "Maxwell's Silver Hammer," which then transitions into the Beatles echoing a Zappa doop-wop on "Oh! Darling." It also echoes some early Beatles rhythm and blues/early rock n' roll songs. Even Ringo gets to sing the brilliantly deep "Octopus's Garden." The Beatles aka King Crimson, later pioneer progressive rock on the bluesy "I Want You (She's So Heavy)," with a repetitive guitar riff and white noise from the Moog synthesizer, which has a powerful effect on the piece. The song ends abrupt, after leaving you hypnotic. The group later shows up the Beach Boys in harmony and makes Beethoven rollover on the harpsichord with "Because." On side two, there is an epic medley, which starts off with the punchy honky-tonk piano driven "You Never Give Me Your Money," which sounds like a later Paul McCartney solo number. It is followed by the mellow psychedelic "Sun King," a track similar to "Because," in an exotic harmony. Then comes the Harry Nilsson influenced  "Mean Mr Mustard." "Polythene Pam" picks up the energy during the medley with Lennon's singing and Harrison's assertive guitar work. The guitar boogie "She Came In Through The Bathroom Window," oddly has McCartney playing lead guitar and Harrison playing bass – usually its the other way around. The pleasant "Golden Slumbers," which has McCartney's vocals greatly emphasized, as it shares a similar melody to the symphonic "Carry That Weight," which includes vigorous brass during the bridge, as it also reprises the opener of the medley. The title of the closer, "The End" isn't the only sign of the band departing. You can tell in the recording especially in the harmony section, it's the band saying goodbye; it sounds more of a farewell than "Sgt. Pepper's Lonely Hearts Club Band (Reprise)" did. After the energetic but depressing closing track, "The End" the group left another hidden track, "Her Majesty," but this time instead of it being obnoxiously freighting like it was before, its simply charming.
It might be the most influential Beatles album cover, but its certainty not their best album. The Beatles had a good run throughout the sixties, but since they started experimenting with their sound in the mid-sixties, each member started separating themselves and came to realization that their material was more noteworthy than the other. They were still young and optimistic, but not for Beatles material. This was the end.
9/10 
Favorite Tracks: "Come Together," "Maxwell's Silver Hammer," "Octopus's Garden," "I Want You (She's So Heavy)," "Because," "Mean Mr Mustard," "Polythene Pam" 
Least Favorite Tracks: "Sun King," "The End" 
Listen to The Beatles' Abbey Road here. 
---
Franz Ferdinand – Always Ascending
The most recent from the Scottish-rockers, Franz Ferdinand, proves that the band has not yet lost their edge in music and are one of the greatest bands to come out of 2000's – who are still balanced and relevant to this day. We last heard from them in 2016, when they took aim at then-Republican nominee, Donald Trump, with "Demagogue" in their involvement with the 30 Days, 30 Songs resistance project during the 2016 Presidential Election.  
Always Ascending is a fresh start for the group, after founding member, Nick McCarthy, left the band in 2016. McCarthy was replaced by Dino Bardot (1990s) who had no involvement with the new album and Julian Corrie (Miaoux Miaoux), who contributes greatly to the modern sound. Even though the band is polishing their music and lost their lead guitarist, they have not yet lost their signature jagged guitar riff style and the approach of evolving. They have always been making dance music, but here, it's fresh and surprising.The opening titled track shows Franz at their most genius. The intro of "Always Ascending" shows a soft piano with layered background vocals as the synths show word painting of the music sonically rising and ascending slowly before it all suddenly drops, with tight instrumentals. It showcases the auditory illusion of the Shepard tone, which makes the pitch of the music sound like its ascending or descending, when really its staying the same. "Lazy Boy" is a classic Franz track, but its so damn lazy lyrically. The vocals are however catchy, especially when you're contemplating about skipping an 8:00 a.m class and frontman, Alex Kapranos's voice pops up in your head singing "Am I gonna get up? Am I gonna get up, get up?" The groovy guitar after the first verse is especially reminiscent to the early days with McCarthy as guitarist and its funk riff makes you want to kick and stomp like you're Alex Weir from Stop Making Sense. "Paper Cages" continues this trend, but blends that punchy riff with some bouncy and shadowy synths – reminiscent to certain new wave bands such as Talking Heads and Duran Duran. "Finally" is similar to "Always Ascending" with its firm instrumentals. Its buzzy and dancy synths and keys spiral like they were initiated from a launch pad. On the epic "The Academy Award" there are powerful elevating synths, similar to "The Murder" screeching string section from Psycho (1960). It could also be a sister track to "The Universe Expanded," from Franz's past album, Right Thoughts, Right Words, Right Action (2013). In a tremendous segue, "The Academy Award" transitions into the electropop "Lois Lane," which deals with a "pretty strong woman" journalist who wants to change the world, but cannot. It's nostalgic to the style on Tonight (2009), but it's the first time the band used a fictional character they wrote about it in their songwriting. "Huck and Jim" is one of the more energetic and heavier synth tracks, where in the pre-chorus, Kapranos sounds like how he did during the bridge of "Auf Achse" off Franz's debut album. And he sounds like he's Blondie rapping or imitating Mark Mothersbaugh on the Devo's "Time Out for Fun" – which all points to styles never done before by the group. The song deals with Huckleberry Finn and Jim and the NHS (National Health Service) in England. "Glimpse of Love" sounds like it could've been a huge disco hit in the late seventies, which includes some immensely clean and choppy Nile Rodgers guitar chords. "Feel the Love Go" sends you on a synth-wave disco whirl – one which lasts forever on the dance-floor – with a sax solo from Terry Edwards (The Higsons and Gallon Drunk); so far being one of the best tracks of 2018. The closer, "Slow Don't Kill Me Slow," is a great departure from the rest of the songs. In spite of the minimal droning and effects over the drums, the song sounds like a combination of the Carpenters and Franz's own "Fade Together," mostly when Kapranos rises in his vocals singing "Slow, don't kill me slow / don't kill me slow / no, never never no, don't kill me slow."As the group captures you with a sensual vocal approach from Kapranos and has you dance until there is no more groove box – this is the most inconsistent arrangement from the group. There are awkward transitions, slow tracks that are out of touch with the main sound, and repetitive lyrics. Despite those elements, this album is elegantly strong, well produced, which you can tell where the band focused the most on.
After five studio albums, Franz proved how consistent and ordinary they are. They're natural contrarians, who always standout. With a change in dynamics, this is a new band.
7.5/10
Favorite tracks: : "Always Ascending," "Finally," "Lois Lane," "Huck and Jim," "Feel the Love Go"
Least favorite tracks: "Paper Cages," "The Academy Award," "Glimpse of Love" 
You can listen to Franz Ferdinand's Always Ascending here. 
---
Every Franz Ferdinand Album Ranked from Worst to Greatest
In 2004, a then-Scottish quartet named Franz Ferdinand broke into the mainstream with their signature number, "Take Me Out." It was blasted through airwaves, sports events, and commercials  – deeming the band as a "one-hit wonder." However, they were only seen as that to people who are too lazy and simpleminded to listen to one of their full-length albums. The group upstaged U2 when opening for them back in 2005, where rebel frontman, Alex Kapranos walked onto Bono's ego-ramp – a catwalk extending into the audience – during their own performance. Also, in Scotland, they're practically adored like the Beatles. And not one of their albums are bad or even mediocre – they're all tremendous. After five studio albums, Franz proved how consistent and natural they are. In honor of Franz's latest release on Feb. 9, Always Ascending, we ranked all five studio albums from worst to greatest.
5.) Always Ascending (2018)
The most recent from the Scottish-rockers proves that Franz Ferdinand has not yet lost their edge in music and are one of the greatest bands to come out of 2000's – who are still balanced and relevant to this day. Always Ascending is a fresh start for the group, after founding member, Nick McCarthy, left the band in 2016. McCarthy was replaced by Dino Bardot and Julian Corrie (aka Miaoux Miaoux), who contribute greatly to the modern sound, especially on the titled track of the new album. Even though the band is polishing their music and lost their lead guitarist, they have not yet lost their signature jagged guitar riff style ("Lazy Boy," "Huck and Jim"). The experimental and electropop approach from Tonight (2009) is eminent and tremendously emphasized ("Always Ascending," "Lois Lane"). "Feel the Love Go" sends you on a disco whirl – one which lasts forever on the dance-floor – with a synthy sax riff and solo from Terry Edwards; so far being one of the best tracks of 2018. However, as the group captures you with a sensual vocal approach from frontman, Alex Kapranos and has you dance until there is no more groove box – this is the most inconsistent arrangement from the group. There are awkward transitions, slow tracks that are out of touch and misplaced ("Academy Award," "Slow Don't Kill Me Slow"), and overly booming synths and keys louder than the vocals. And "Lazy Boy" is just so damn lazy lyrically. However, instrumentally, its jarring.
(Stay tune for a full review)
Rating: 7.5/10 
4.) Right Thoughts, Right Words, Right Action (2013)
Similar to Tonight, RTRWRA, focused highly on a dance-oriented style, but its a back to the basics kind of album; dance rock emphasized by one heavy riff. From the beginning of the record, you can hear the band craving another "Take Me Out" – every song ranging from "Right Action" to "Bullet" sounds like a worthy single, waiting to crack the Billboard charts. It's a celebratory album with a lot of swagger. "Evil Eye" creates an edgy vibe and has grooves nostalgic to the Clash's London Calling (1979). "Love Illumination" has a classic guitar riff, which could've been a huge glam rock hit in the seventies. "Stand on the Horizon" includes a choppy Talking Heads-esque guitar riff, with an uplifting groovy bassline. "Bullet" is a classic post-punk Franz track, which could've fit really well on the first two albums. The later tracks are completely different in style. They switch out the heavy guitar riffs with some keyboards and synths. The noticeable blend of this arrangement is on the standout "Treason! Animals," which sounds like Queens of the Stone Age mixed with disco. Kaprano's vocals are sinister, as he sings "I'm in love with a narcissist, I'm in love with my nemesis." On the final track, "Goodbye Lovers and Friends" you're hit with a gloomy fast-paced rhythm section, similar to Fleetwood Mac's "Tusk." It includes Kapranos declaring in the final seconds, "But this really is the end" – a perfect closer to an astounding comeback record. RTRWRA proved rock music was still prominent in 2013.
Rating: 8/10 
3.) Tonight: Franz Ferdinand (2009)
Tonight is the comeback record, put out by Franz in 2009, four years after their last release. It's the first time Franz flirts with experimentation, with electronics at the front. This meant McCarthy had to go from working on his jagged guitar work to keyboards. And it's the first conceptual record released by the group, where the album focuses on elements of going out at night, while carousing and encountering the effects. "Ulysses" is the opening track, as it contains a lot of bass and keyboards. Named after the Greek hero from Homer's Odyssey, this track leads to the anticipation about how something big's about to happen and there is so much excitement, you're carefree about the future, as the song contains the lyrics, "you're never going home." Even though the band is experimenting, their classic sound has not been abandoned. You hear this on two key tracks, the tempting "No You Girls" and the bitter "Bite Hard." Also, the band still makes your hips move on the dance floor single, "Can't Stop Feeling." But tracks like "Twilight Omens," "Live Alone" and the electronic monster, "Lucid Dreams" are ahead of their time, even in the age of electronic dance music. This album hits you on first listen, which is surprising for an exploratory concept record – which sometimes takes time to resonate.
Rating: 8.5/10 
2.) Franz Ferdinand (2004) 
During the climax of the garage rock/post-punk revival in the 2000s, a Glasgow band reached the Billboard Hot 100 and Modern Rock Tracks chart, with their anthem, "Take Me Out." From the first track to the last, on their debut album, Franz is loaded with a ton of energy and riffs that defines what they are all about – seductive punk with a lot of cockiness. The opener, "Jacqueline," starts out soft, but when McCarthy's fast-paced guitar creeps in; all hell breaks lose. The album gets out of control as it descends to the quirky and catchy "Tell Her Tonight." The signature tracks just keep coming too, from the foot-tapping "The Dark of the Matinée" to the homoerotic full of eyeliner "Michael." Deeper cuts such as "Cheating on You" and "40′" shows Franz's cleverness and are two of the best produced tracks on the album. There are so many songs here including "This Fire" and "Darts of Pleasure" that should have been as big as "Take Me Out." Every cut here is  "Super-Fantastic."
Rating: 9.5/10 
1.) You Could Have It So Much Better (2005)
Franz's sophomore effort is the group at their best. It's lyrically intelligent, rough, and versatile. The stomping opener, "The Fallen," showcases how aggressive and heavier the band is from their debut. The "Take Me Out" here is "Do You Want To," – a giddy keyboard dance hit, which got ruined by a certain anime. After the loopy "This Boy," Franz records their most beautiful and soothing tracks, "Walk Away" and "Elanor Put Your Boots On." "Well That Was Easy" feels like a classic Paul McCartney song, which isn't surprising. The group pays respect to their influences on this album. They dig deeper into relationships with a lot of guitar wrenching and soul on "You're the Reason I'm Leaving" and especially the album's titled track – where Kaprano's roaring and pushy vocals steal the spotlight. The aesthetic "Fade Together" is dream-like – reminiscent to what the Kinks released in the late sixties. Franz didn't slouch on their sophomore release, they peaked.
Rating: 9.5/10
---
The Beach Boys' "Pet Sounds" Just Got Quite the Release
The featured image above displays how record collectors and Beach Boys fans greeted record stores Feb. 9,  when Capitol Records release a limited split translucent yellow and green 130-gram LP of Pet Sounds, via Capitol Records/UMe. You can also purchase the limited edition LP on The Sound of Vinyl.
When Pet Sounds was first released by Captiol in 1966, Captiol put out the first Beach Boys compilation record, due to how poorly Pet Sounds performed on the charts compared to previous albums. In 1995, Pet Sounds topped MOJO's special list of "The Greatest Albums of All Time" and in 2003, Rolling Stone ranked it at No. 2 of the magazine's list of the "500 Greatest Albums of All Time." Little do people know, the Beach Boys are just as prominent and influential as the Beatles.
---
Stephen Malkmus and the Jicks Release New Single and Tour Dates
Stephen Malkmus and the Jicks are back with music in over four years, since their last studio album, Wig Out at Jagbags. The former Pavement frontman and company released the single, "Middle America" and announced a North American summer tour.
"Middle America" opens a riff similar to the classic Pavement track, "Range Life." It develops a melody close to another Crooked Rain Crooked Rain (1994) classic, "Newark Wilder" in blend with Tom Petty's "I Won't Back Down," when Malkmus sings, "The heir apparent just might try / you know you should be winning." It's acoustically warm, but as the song develops, it becomes deep and intense in Malkmus' vocals, as he sings, "It doesn't take much nerve / just kiss yourself metaphorically and open the door and piss if you need to." On Twitter, the group posted a snippet of what it seems like, an upcoming music video for the new single.
Malkmus and crew have set a 31-date North American tour, starting June 1, in St. Paul, Minn. The tour will take the band all across North America, going from Philadelphia to Washington D.C.. The tour will come to an end on Aug. 5, in Malkmus's home city in Portland, Ore.
Listen to "Middle America" via Spotify and check out the band's 2018 tour dates below.
Stephen Malkmus & The Jicks Tour Dates:
June
01 – St. Paul, Minn. @ Turf Club
02 – Milwaukee, Wis. @ The Back Room at Colectivo
03 – Chicago, Ill. @ Thalia Hall
05 – Columbus, Ohio @ Ace of Cups
06 – Pittsburgh, Pa. @ Rex Theater
07 – Cleveland, Ohio @ Grog Shop
08 – Detroit, Mich. @ Magic Stick
09 – Toronto, Ontario @ Lee's Palace
11 – Montreal, Quebec @ Theatre Fairmount
12 – Cambridge, Mass. @ The Sinclair
14 – Brooklyn, N.Y. @ Music Hall of Williamsburg
16 – Philadelphia, Pa. @ Theatre of Living Arts
17 – Washington, D.C. @ Black Cat
19 – Carrboro, N.C. @ Cat's Cradle
20 – Athens, Ga. @ The Georgia Theatre
21 – Nashville, Tenn. @ Mercy Lounge
22 – Louisville, Ky. @ Zanzabar
23 – Cincinnati, Ohio @ The Woodward Theater
July
17 – Petaluma, Calif. @ Mystic Theatre
18 – San Francisco, Calif. @ Slim's
22 – Phoenix, Ariz. @ The Crescent Ballroom
25 – Austin, Texas @ The Mohawk
26 – Houston, Texas @ White Oak Music Hall
27 – Dallas, Texas @ Granada Theater
28 – Tulsa, Okla. @ The Vanguard
29 – Kansas City, Mo. @ Record Bar
31 – Englewood, Colo. @ Gothic Theatre
August
01 – Salt Lake City, Utah @ Urban Lounge
03 – Vancouver, British Columbia @ Rickshaw Theatre
04 – Seattle, Wash. @ Neptune Theatre
05 – Portland, Ore. @ Star Theater
---
Julian Casablancas is Not Down with the Ryan Adams Feud, and New Music from the Voidz
Last May, author, Lizzy Goodman, caused controversy in her book, Meet Me in the Bathroom: Rebirth and Rock and Roll in New York City 2001–2011. In the book, she interviewed bands from the New York City Rock scene from the early 2000's, including: the Strokes, Interpol, and Yeah Yeah Yeahs. There was a lot of disclosure and surprising statements throughout the book, like the apparent feud between the Strokes and Ryan Adams. This all started directly to Adams' alleged influence and push towards Albert Hammond Jr., Strokes guitarist, heroin addiction. Hammond was interviewed in a chapter stating,
"I remember Julian threatening to beat Ryan up if he hung out with me, as a protective thing. He'd heard that Ryan would come and give me heroin, so he was just like, 'If you come to my apartment again with heroin, I'm going to kick your ass.'" Speaking with Matt Wilkinson on Beats 1 on Tuesday, Casablancas mentioned Adams, saying how he doesn't care about it anymore. During the interview, Casablancas said "I might have been the one that did it so I don't know, because you just speak in an interview, but I just feel like I wouldn't blame him for anything anyone else did." Casablancas also talked about the new book, by objecting it. "I think that there was a lot of not insiders, talking as insiders. They didn't interview my wife who was basically The Strokes co-manager for 10 years. They didn't even interview her and they interviewed other people – I'm just not super down with the book." Casablancas also went on to talk about the upcoming Voidz album, Virtue, due for Mar. 30. The Voidz released two new singles, entitled "Leave It In My Dreams" and "QYURRYUS." Both tracks are a clear return to the Voidz' electronic neo-psychedelia style on their past debut, Tyranny. It's also reminiscent to the surreal voice effects Casablancas's incorporated on the past two Strokes releases. Take a listen to the new tracks below.
---
Ty Segall – Freedom's Goblin
Ty Segall, the one-man-garage rocker and nineties Beck 2.0, released a brand new album, Freedom's Goblin. It's his most progressive and definitive album after releasing nine studio albums: numerous collaborations and projects with other groups such as Slaughterhouse and Fuzz.
His latest album, produced by the legendary Steve Albini, offers 19 tracks – all wide ranging and unreserved; there's a reason why "Freedom" is featured in the title. This is a bold move, especially in music today. You don't hear artists releasing double LP albums that blends various genres similar to the Beatles White Album (1968) or the Clash's London Calling (1979). On Freedom's Goblin, you hear elements of music that is reminiscent to classic rock (The Beatles, T-Rex, and Todd Rundgren) and Segall's contemporaries (Ohh Sees, Black Lips, and Jack White). The variety and intensity keeps you listening. It's a great album for newcomers. Its like experiencing the Kinks for the first time through their Kink Kronikles (1972) compilation – so much at once. It's not as much psychedelic nightmares recorded from the underground, with scary album covers like his previous albums. It's rock n' roll with all its sub-genres: with some tight pop music in the mix, distorted guitars with a lot of humor and attitude – Segall is free and all over the place and lost at the supermarket.
Freedom's Goblin opens with Segall going full Ryan Adams. The instrumentals in "Fanny Dog," resemble certain classic rock elements, along with the slithering 3D's/Pavement guitar riff. "Rain" by its title alone, is a Beatles tribute song. Segall lets out his inner John Lennon, reflecting Lennon's vocals from "Strawberry Fields Forever." This is the song that gets your mother listening by the door, asking "What Beatles song is that?" Next, Segall covers the seventies disco classic, "Every 1's a Winner," originally by Hot Chocolate. Here, Segall flirts with a more glam rock style, with an overly aggressive heavy Beck riff, which is of most importance. On "Despoiler of Cadaver," Segall dives into a synth void and even becomes a bit Right Said Fred too sexy, especially when singing – "I want to whisper in your ear and give you everything." This could've been a whirling disco dance floor hit in the seventies or played in a late nineties nightclub – a great followup funk number and one of the best off the new LP. "When Mommy Kills You," is a classic Segall track, with again, a feeling of the Beatles, mostly from the background vocals. Even Yoko sounds like she could've been the overdubbing high pitched voices at the end. You can tell Segall is a big fan of Chris Bell and Big Star, on "My Lady's on Fire." Segall gets tender ("Alta," "Cry Cry Cry," "I'm Free") and you can feel how profound his singing is. "Alta" is an environmental song, set in California – reminiscent of something the Beach Boys would have released from their 1970-1973 period. "Meaning," could've been a new Jack White single for Boarding House Reach, but after the opening, it turns into this sprawling punk tune, with Segall's wife singing lead vocals. "Shoot You Up," is just as rebellious and heavy as The Clash's "Guns of Brixton," but Segall's tone isn't as pushy and intimidating as the instrumentals. The highlight, "You Say All The Nice Things," is a lost T-Rex Slider (1972) take. "The Last Waltz" certainly sounds like its title with its word painting around the instrumentals, which also shows influence of "Being for the Benefit of Mr. Kite!" by the Beatles. Typical blurred guitars from Segall, make their return on "She," with Segall going heavy metal on vocals. The Wowee Zowee sections consists of "Prison," – a goofy wild comedic instrumental transitional piece to the squalling saxophone and guitar boogie of "Talkin 3," – where Segall screams the entire time and "The Main Pretender." "5 Ft. Tall" is the catchiest number off the album and it includes a riff which could have been from one of the Nuggets compilations. The closing track, "And, Goodnight" is an 11 minute experimental trip, where it sounds as live as Neil Young's Live Rust (1979). The solo seems never ending and when it finally ends, you want more. It's like when waking up from a dream when reaching the climax. Luckily, Segall is pretty fast with releasing new music, so lets hope for some more dreams.
Segall, along with other artists such as Ron Gallo, are going backward in music and trying to give light on a genre that has been declared "dead" and irrelevant to today's music standards. On an independent label such as Drag City, artists have the freedom to bring back or experiment with the music, in which they desire. On Freedom's Goblin, Segall has established himself as a free musician, in celebration to the second garage rock revival, in which he conquered through his excellent taste of fuzzy guitars and melodic sensibility.
8.5/10
Favorite tracks: "Rain," "Every 1's a Winner," "Despoiler of Cadaver," "My Lady's on Fire" "You Say All The Nice Things," "Talkin 3," "And, Goodnight" 
Least favorite tracks: "Cry Cry Cry," "Shoot You Up," "She" 
You can listen to Ty Segall's Freedom's Goblin here. 
---
Shine a Light on Your Police's Synchronicty Vinyl Copy 
Three years ago, I was visiting a local comic book store that also sells vinyls. I was casually searching through the low-priced section, which mostly consisted of old and worn out copies of Moody Blues albums and if you got lucky, there would be some interesting new wave or power pop albums. After searching through several bins of records, the owner of the store came towards me and in a hasty manner, searched through the bin next to me. He pulled out a copy of the Police's fifth and final studio album, Synchronicty (1983). He took record itself out and shined it to the light above us and uttered in gratification. He then told me that some original pressings of Synchronicty were pressed on a nontransparent colored record, such as bluish-purple, which you can only see when holding it up to a light. I was intrigued and looked up everything I could about it. I came across this forum discussion, posted by David Loyd. Loyd stated in his post, how supposedly there are some very rare red, gold and baby-blue copies out there as well. Check your copy to see if it matches the copy I recently purchased for only $6.00 below.
---
Tyga Joins the List of Controversial Album Artwork
Tyga, released on his Instagram page, the cover artwork for his upcoming album, Kyoto. It confused many and lets just say, it didn't sit well with some. The album art features an illustration of a reclining human-like tiger woman in the nude, with her underwear down. The cover was designed by Japanese graphic artist, Hajime Sorayama, best known for his sexual depictions of metallic female robots (i.e. Bio Mechanoid Marilyn Monroe). In the comment section of the post, you can see fans greeting it as "beautiful" and "dope," while others see it as: "sexist," "terrible," and some have even recgonized it as a pioneer of "furry porn." Tyga defended the artwork, in an interview with TMZ, stating "I think it's lit. It's art man." Tyga later posted a picture of Sorayama, holding the artwork, thanking him for capturing "the essence with a beautiful & truthful piece."
In 1966, the Beatles released the butcher cover art for their album, Yesterday and Today, which essentially kicked off the start of controversial album artwork. This was followed by many artists including: Blind Faith, Jimi Hendrix, Scorpions, Guns N' Roses, Kanye West, and even the fictional band, Spinal Tap. And now, Tyga now joins the club of bizarre and "offensive" album artwork. View Kyoto's cover art below.
---
Mark E. Smith, Lead Singer of The Fall, Dies at 60
Mark E. Smith, the prominent frontman and founder of the British post punk band, The Fall, dies at age 60, at his home. Pam Vander, manager of The Fall, posted on the band's Facebook page stating "It is with deep regret that we announce the passing of Mark E. Smith. He passed this morning at home. A more detailed statement will follow in the next few days. In the meantime, Pam & Mark's family request privacy at this sad time." Throughout 2017, Smith has been battling health issues, resulting in a cancellation of a U.S. tour. He even performed in a wheelchair last October. This was the second time the singer had to perform in this manner.
As a quick tempered and prolific person, Smith kept the Fall going for four decades, issuing more than 30 albums – each with a different sound. He has been the only permanent member from the Fall to remain on every single album and hired and fired many musicians featured on those records along the way. Smith founded the Fall, after attending a Sex Pistols show in 1976. His band never broke commercially like many of their contemporaries, but have developed a cult following and influenced many musicians such as Pulp, Franz Ferdinand, Arctic Monkeys, Sonic Youth, and Pavement. Smith once said Pavement was just the Fall in 1985.
Simon Wolstencroft, speaking with the BBC about Smith, stated "His influences travel a long, long way to bands like Pulp, and new bands now like Cabbage, and many other bands have been influenced by him," He also added "It's a sad day," and certainly it is the world of music. In tribute to Smith, you can listen to The Fall's "Hit the North, Part 1" below.
---
Sorry, No Pictures: Jack White Bans Cell Phone Use at 2018 Concerts
It makes sense when musicians publicly dislike the usage of cell phones at their live shows. What can be more annoying than performing, while people are viewing you through a technological device, rather than their own eyes.
At an Alicia Keys concert during the summer of 2016, audiences were forced to place their phone in a rubbery pouch that gets locked, called a Yondr Pouch. If you need your phone unlocked, you have to come outside and have one of the organizers unlock it for you. Keys' and many others including – the Lumineers, Guns N' Roses, Chris Rock, and Dave Chapelle's shows have become "phone-free," – trying to regain the full attention and have their fans encounter the true live experience of their music and acts.
Jack White is the latest person to request fans to keep their phones locked in pouches during his concerts. For years, White has been encouraging fans not to use their cell phone at his live shows. According to NME, a statement released today by White's team stated "concertgoers will be banned from taking photos, audio, or video during the tour. We think you'll enjoy looking up from your gadgets for a little while and experience music and our shared love of it IN PERSON." However, White doesn't want to take away from his fans, pictures from the show. White also stated "For those looking to do some social media postings, let us help you with that. Our official tour photographer will be posting photos and videos after the show at jackwhiteiii.com and the new Jack White Live Instagram account @officialjackwhitelive. Repost our photos & videos as much as you want and enjoy a phone-free, 100% human experience." The tour, for White's upcoming album, Boarding House Reach (Out March 23), starts in Detroit on April 19th. Listen to the brand new single, "Connected by Love," below.
---
Watch The War on Drugs Bring A Deeper Understanding to the Tonight Show

2018 Grammy Nominees, the War on Drugs, enjoyed another bit of recognition and publicity, performing the heartfelt and guitar wrenching "Pain," which recently was #1 on the Billboard Adult Alternative Airplay (AAA) chart. The War on Drugs released their fourth studio album, A Deeper Understanding, a sonically dreamy heartland rock album, that has been nominated for Best Rock Album at the 60th Annual Grammy Awards. They could've performed the soulful classic "Holding On," in which, they performed previous on past late night shows, but instead they gave spotlight on a much deeper track. Towards the end of frontman, Adam Granduciel's final guitar solo, he reveals on the back of his jacket, "Fly Eagles Fly," in support of the Philadelphia Eagles' recent NFC Championship win and their path to Superbowl LII.  Watch their performance below.
The War on Drugs 2018 Tour 
1/27 – Singapore, SG @ Laneway Festival
1/29 – Aukland, NZ @ Laneway Festival
2/2 – Adelaide Sa, AU @ Laneway Festival
2/3 – Melbourne, AU @ Laneway Festival
2/4 – Sydney, AU @ Laneway Festival
2/6 – Newton, AU @ Enmore Theatre
2/07 – Newton, AU @ Enmore Theatre
2/10 – Brisbane, AU @ Laneway Festival
2/13 – Melbourne, AU @ Forum
2/14 – Melbourne, AU @ Forum
2/11 – Fremantle, AU @ Laneway Festival
4/13 – Indio, CA @ Coachella Music and Arts Festival
4/20 – Indio, CA @ Coachella Music and Arts Festival
5/4 – Atlanta, GA @ Shaky Knees Festival
6/2 – London, UK @ All Points East Festival
6/4 – Dublin, IE @ Forbidden Fruit Festival
6/15 – Hunter, NY @ Mountain Jam
7/11 – Halifax, NS @ Halifax Jazz Festival
7/13 – Louisville, KY @ Forecastle Festival
7/14 – Birmingham, AL @ Sloss Music & Arts Festival
7/28 – Camden, NJ @ XPoNential Music Festival
---
Queens of the Stone Age – Villains 
"The shingles that peppered Queens of the Stone Age's DNA have been all but sanded down leaving a melodic, squeaky-clean reinvention of the band we thought we knew."
– Will Butler, Under the Radar 
I couldn't help but detest some past reviews like the one above for the new Queens of the Stone Age album, Villains. It's the group's seventh studio album, released on Matador Records, this past August. Like Butler sort of stated in his review, Villains is a more polished reinvention for the group, which in anyway, wasn't surprising. Homme was featured on the most recent Arctic Monkeys record, AM (2013), which also served as a change in sound for Arctic Monkeys – giving clear emphasis on the guitar and the revival of boogie and dance rock. Homme also produced and appeared on Iggy Pop's latest album, Post Pop Depression (2016). Also appearing on that album was Queen's member, Dean Fertita and Arctic Monkey's drummer, Matt Helders. There's an odd relationship occurring here, where Homme basically took elements from his last few projects and incorporated it all on the new Queens album. However what's odd here, is how Villains features no guest musician appearances, unlike their past albums and obviously the increase of Homme's colloborations. That means, there is no David Grohl, Iggy Pop, Alex Turner, or Lady Gaga. It's only Mark Ronson ("Uptown Funk") as producer and Homme and crew greased and leathered up for one of the most surprising highlights in music of 2017.
If you were a huge fan of the last Queens album, …Like Clockwork (2013), then you were possibly fooled on the first song. On the opening track, "Feet Don't Fail Me," you hear right from the start, the very dark medieval strings and synths featured on the last album. The word painting of the strings at the beginning shows the anticipation and heart rate of the die-hard Queens fan, as they are approaching the gates of Hell. Homme's vocals become especially sinister on the following track and lead single, "The Way You Used to Do." It's the most jumpy dancey rockabilly Queens song to date – Homme turns Alex Turner AM sexy. The music starts to fade away, and you can only hear these effects echo a later track featured on the album. "Domesticated Animals" is too lyrically similar to the concept of Planet of the Apes. Here, Homme sounds like the lead ape revolutionist, Caesar, but oddly in an alluring dark fashion. As the song is ending, you hear this scream that is reminiscent of past Queens member, Nick Oliveri's singing style featured on the classic Songs for the Deaf (2002). After another small transitional effect that sounds like Green Day's "Hitchin' a Ride," the album quiets down and Homme's vocals become specially beautiful and the songwriting stands out rather than the instrumentals. On the remarkable "Head Like a Haunted House," I can't decide whether the group sounds more like the B-52's with the wicked screaming backing vocals, the Cramps in relation to Homme's tone of voice, or the lead guitar sounding like a mash of Devo's "Wiggly World" and the Dead Kennedy's "Holiday in Cambodia." The transition to "Un-Reborn Again" features a whole ton of biting and cruel synths, along with Homme adapting his inner Bowie. "Hideaway" is the weakest track on Villains, however, it fits the sound and quality of the album. It sets an eighties post-punk/goth mood along with a Duran Duran ballad. The next track, "The Evil Has Landed" is a drastic change. It opens with a Led Zeppelin-eqsue guitar riff, as Homme's high singing reflects his guitar style.
You get lost during the solo, sort of like how Homme did when he kicked a female photographer in the face at the KROQ Almost Acoustic Christmas show. I mean the tour is in support of an album called Villains, however, this all might be too soon. In the last half of the song, you realize that the group doesn't want to end, so they form an entirely new riff, while the effects start to overdub the previous one, leading into a jam – one of the best moments on the album. The final track, "Villains of Circumstance," ends in the same way the album started. It's very dreamy and shadowy, as you hear Homme singing about how far he is from the one he loves.
As the album fades away in this closing track, you may find yourself replaying it over and over again. It's a pure solid rock n' roll album, obviously with Homme and other members paying their respect to a number of their influences. It is their most consistent record, with every track balancing well due to the clever mixing of the album. The band finally started to change their sound, but went in the direction of a music genre, that was last relevant a decade ago in the style of rock n' roll. However, the menacing instrumentals are disguised over Ronson's upbeat production. Villains may not be as classic on the same levels as Rated R (2000) or Songs for the Deaf in any means, but it's one hell of a journey.
9/10 
Favorite tracks: "Feet Don't Fail Me," "The Way You Used to Do," "Fortress," "Head Like a Haunted House," "The Evil Has Landed" 
Least favorite tracks: "Hideaway," "Villains of Circumstance"
You can listen to Queens of the Stone Age Villains here.
---
The B-52's – Whammy! 
In 1983, the B-52's followed up Mesopotamia, with their third studio album, Whammy!, which is basically a continuation of what they did on Mesopotamia. However instead of working with David Byrne, this time the band worked with Jamaican audio engineer and producer, Steven Stanley, best known for working with Talking Heads and Tom Tom Club. The B-52's were relentless with changing and updating their sound, thus Whammy! is another take on the band's journey of experimentation.
During a visit at Compass Point Studios in the Nassau, Bahamas, best known for where AC/DC recorded Back in Black (1980) and also where Emerson, Lake, and Palmer, recorded their cringe-worthy seventh studio album, Love Beach (1977).  First at the studio, the B-52's re-recorded the tracks that were left off of Mesopotamia ("Queen of Las Vegas, "Big Bird," and "Butterbean") and later in December of 1982, recorded six new songs. At this time, guitarist, Ricky Wilson and drummer, Keith Strickland became multi-instrumentalists, by contributing all of the instrumentals, except additional instruments such as the trumpet and saxophone for Whammy!. Even though this album vastly differs from their first two releases, it still shows the B-52's in their typical quirky and zany style.
Whammy! opens with "Legal Tender," which features a steady drum machine and a genuine keyboard, underlaid with warm vocals from frontwomen, Kate Pierson and Cindy Wilson, singing about making fake money in a basement, ready to be spent. The synthesizers also play a huge role in the opening track, drawing a resemblance to the new trend of new wave artists throughout the eighties, giving value to the instrument. "Whammy Kiss" features frontman, Fred Schneider at his most extreme, ending the song in reverberation by screaming "Give it to me!" With that line, you could probably guess how crazy this song is. This track differs from the rest due to how over the top it is, but that was what the band was known for. Next to "Mesopotamia," the next track, "Song for a Future Generation" is the best experimental track from the B-52's. It shows all five members singing, along with the key and synth lines creating a pleasant and cheerful landscape. Without a doubt, this is the best song off the album. If you thought "Whammy Kiss" was outrageous, the next track, "Butterbean" is just as bad. It almost sounds like the band is mocking their classic surf/punk style with modern instruments disorganized and outrageous draggy backing vocals from the females. The chorus changes several times in the song, but it is still a fun song to dance to. "Trism" is another alluring track from the start of it, but it becomes too repetitive and drags on. "Queen of Las Vegas," shows some similar keyboard riff like shown on the classic Cindy Wilson lead vocal track off their debut, "Dance this Mess Around." The lyrics are the deepest on the record, showing how perfect the vocals are without any male interference. The next track is a cover of Yoko Ono's "Don't Worry Kyoko" however on this version, your ears won't bleed at the very beginning (come on, I love Yoko, but fuck that opening scream) and there is no Kyoko. The B-52's transform Yoko's version into a jumpy, obnoxious, Devo-like synth anthem. It gets even weirder on "Big Bird." There's a surprising horn and African drum section over a low keyboard line – something that could have been featured on nineties Nickelodeon, later ending in jazzy style. The congas are extensively emphasized, showing a wild taste and Stanley's influence. The final track, "Work That Skirt" is a jam featuring all sorts instruments, with the electronics sounding like something which could have easily influenced the Flaming Lips' Yoshimi Battles the Pink Robots (2003). It's a fantastic instrumental piece, but it's a weak way to end the album. As a listener, you demand more. It would have been better as a transitional track; sort of a break from all the loopy singing by Schneider, Wilson, and Pierson.
This whole experimental project was a great idea by the band – it didn't fail at all like some artists do when changing their sound. It's a very eccentric and genius album, but holds too much emphasis on the consistent use of keyboards and synths, which was clearly its point. It creates a futuristic atmosphere, which still holds today. It might not be as classic as their first two albums, but it shows a more stable organization in their order of songs. It's very undeviating – keeping the party going. The point of the B-52's music is to make you get up and dance and that is exactly what was accomplished Whammy!.
8.5/10  
Favorite tracks: "Legal Tender," Whammy Kiss," "Song for a Future Generation," "Butterbean," "Big Bird" 
Least favorite tracks: "Trism," Don't Worry" 
You can listen to The B-52's Whammy! here.
---
Listen to the Latest Track by David Byrne, For His Upcoming Album
David Byrne released the latest track for his upcoming 2018 studio album, American Utopia. The song is entitled "Everybody's Coming To My House" which right at the beginning, establishes an atmosphere of LCD Soundsystem, Talking Heads, and you can also hear some Daft Punk, especially in the solo and instrumentals. American Utopia comes out Mar. 9. Listen below.
---
Franz Ferdinand Releases New Song for Upcoming Album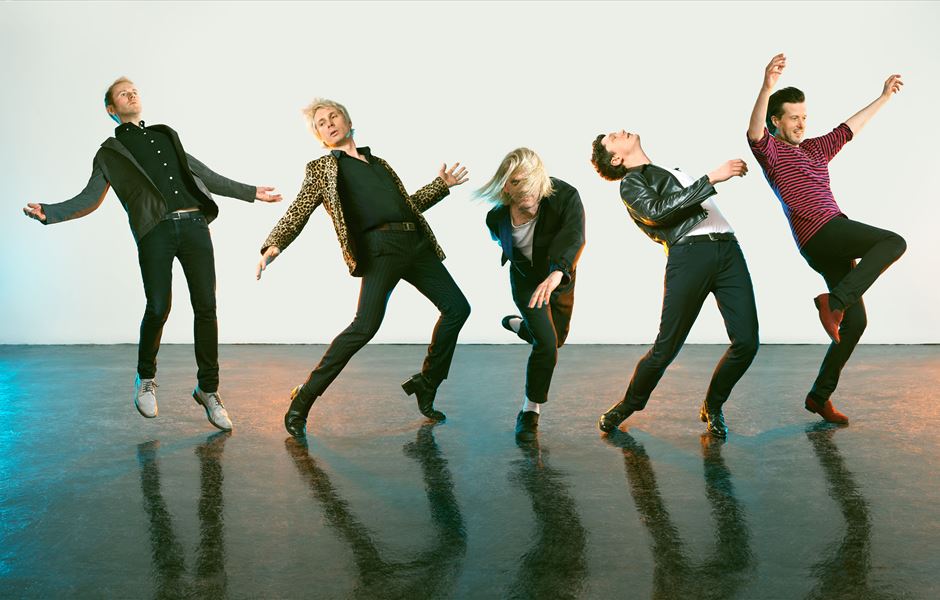 Scottish rockers and garage rock revivalists, Franz Ferdinand, released a new single entitled "Feel The Love Go" for their upcoming album, Always Ascending, due for February 9, 2018. It is far more progressive than the previous titled track single, but continues the sexy dance rock fashion Franz is known for. The change up in style isn't surprising, especially after co-founding member and guitarist, Nick McCarthy, departed. This isn't like anything Franz has released before, however, it does draw a similarity in the more solid and electronic pop album, Tonight: Franz Ferdinand, from 2009. "Feel The Love Go" sounds like its predecessor, especially in the beginning before the drop to the chorus, but the end of it takes you on a disco whirl that seems never-ending.
Many garage rock revivalists from the early 2000's have switched from guitars to synths and keyboards. Bands including Franz, the Strokes, and the Killers, started this approach in the early 2010's, but emphasized it more with their recent work. Artists once hailed as the "saviors of rock" are now evolving into a different genre. Similarly, when the Rolling Stones and Rod Stewart went disco; history repeats itself.
Listen to Franz Ferdinand's "Feel The Love Go" below.
---